Troubleshooting
Q) Why no sound comes out after connecting to the TV using ARC?
A) Please make sure your TV supports HDMI ARC output. Then go to "setting" in your TV (may vary due to different brand):
1) Setting → Sound → Select Speaker to: external speaker(HDMI ARC mode)/turn off TV Speaker; 2)Setting → Sound(audio) → Advanced Audio → Digital Audio Output → PCM Setting → Sound(audio) → audio output format → Turn off PCM/Dolby Output. Please select the correct input mode.
Q) Why watching Netflix, Disney+, Amazon prime has no sound or noise, some shows have sound on Smart TV?
A)If your TV is a smart TV. Apps like Netflix was set default audio output is Dolby and DTS for the movie, but this speaker does no support Dolby and DTS, so you will hear the crack sound or no sound, please kindly disable the Dolby and DTS on Netflix.
Q) Why my wireless device cannot connect to the speaker?
A1) You have not enabled wireless on your device or the speaker.
A2) Maybe someone else has connected to your speaker already, at this time, you need to long press the Play/Pause button on the speaker for 3s to disconnect the wireless connection by force.
A3) When connecting wireless, try not to place routers and other devices next to the speaker.
Q) Is this compatible with Fire TV/ Firestick?
A) Yes, plug the Fire TV to the TV. And connect the TV using any input mode. If using HDMI ARC, please
make sure you have followed our manual setting.
Q) When you purchase two or more sets of this product and turn on two or more speakers at the
same time, the microphone may not be able to connect to the speaker you
specified?
A) This is because each set of speakers and microphones uses the same wireless connection technology,
so connection crosstalk problems cannot be avoided.
You can try below methods if you meet relative problems.
Method 1: Please use the sequential connection method. First turn on the first speaker and connect the
two matching microphones. Then turn on the second speaker again and connect the second set of

microphones.
Method 2: Only use one set of speakers and microphones at the same time, and turn off other speakers
and microphones.
Q) What to do after the speaker crashes?
A) When the speaker crashes, insert a cotton swab into the Line In interface on the back of the speaker.
There is a button inside the interface. Press and hold the cotton swab for 2 seconds to force the speaker
to shut down, and press the power button again to turn it on.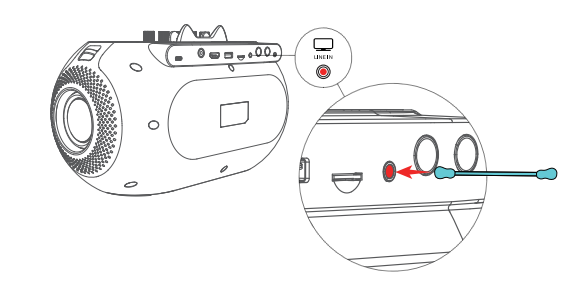 Q) How to handle howling sounds?
A) When the speaker is too close to the microphone, it will produce a howling sound, which is normal performance. To avoid this howling, please keep the distance between the microphone and the speaker at least 12 inches.